Terminato il final table del 300+30 abbiamo finalmente il nome del vincitore di questa prima serie dell'Italian series of poker : SCERMINO ALESSANDRO
In un primo momento Casellato sembrava passare in testa, ma dopo alcune mani, Scermino passa in vantaggio schippando così lo START EVENT.
Ultima mano :
CASELLATO 2p5q
SCERMINO 5f7p
flop 8f 6q 4q
turn 6p
river Jq
Scala gia' al flop per SCERMINO…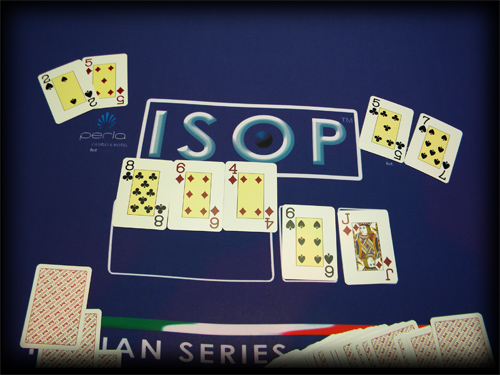 CASELLATO out con un meritatissimo secondo posto…
Medaglia di bronzo a BRACO PASQUALE.
Un rapido riassunto della classifica del final table del 300+30
4° PODDA
5° DAVI'
6° MARIOTTI
7° KISVARDAY
8° IMPERATI
Un ringraziamento a tutti i giocatori che hanno partecipato a questo evento e ancora i nostri complimenti al vincitore dello START EVENT della prima serie delle ITALIAN SERIES OF POKER : SCERMINO ALESSANDRO che porta a casa 8.910 euro…
A domani per il final table del " LADIES EVENT" e "DAY 2b MAIN EVENT"…..
BUONA NOTTE A TUTTI……..